Meridian Retreats offers luxury holiday cottages near Horncastle, a town with a lot to offer.  We thought we would take the time here to explore just a small selection of what is available for the visitor to Horncastle.  For information about other attractions close to the cottages check out our local interest pages.
Driving through the patchwork fields and quaint villages towards Horncastle might be enough of a day out for some. The town nestles within the stunning Lincolnshire Wolds, designated as an Area of Outstanding Natural Beauty (AONB) and home to many cute little village pubs, perfect for a pit-stop and a pint.  Anyone visiting Horncastle for the first time will likely notice the plethora of antique shops, in fact, this is what the town is most famous for, welcoming television shows such as the BBC's Bargain Hunt on more than one occasion.
Each shop has its individual charm and character, housing a veritable Aladdin's cave of treasures, just awaiting discovery. With so many to look around, you could get a little overwhelmed, but why not try the Drill Hall Antiques Centre on South Street. This large, open-plan centre houses around 20 different dealers, is spread over two floors and has an extensive range of stock, from silver and jewellery to furniture and glassware.
The Trinity Antique centre on East Street occupies a unique location in the old Holy Trinity Church and is chock full of goodies to explore. And then there's the fascinating Great Expectations Antiques, a little further down East Street, which is absolutely bursting at the seams with every possible curio known to man.
Once you've had your fill of antiques, there are plenty of other attractions in and around Horncastle to occupy your time. Why not make the short journey to the east coast, where you'll find the Victorian seaside town of Skegness.  With all the typical charms of a traditional English seaside town, such as amusement arcades and the Pleasure Beach theme park. Don't leave without sampling the fish and chips from one of the kiosks down by the beach and finish off with some freshly made hot donuts. Or if you prefer a slightly more sedate pace, try a little further north and visit Sutton-on-Sea.  A quieter option for those wanting to feel the sand between their toes without having the crowds and busy feel of Skegness!
Back in Horncastle, take the time to visit Sir Joseph Banks House on the High Street. This was once the home of the explorer and botanist, famous for sailing round the world on the Endeavour with Captain Cook and is worth a look.
If local historical figures interest you, it is also worth taking a trip to William Marwood's cottage on Church Lane. This house once belonged to the man who served as Executioner for the United Kingdom from 1872 until his death in 1883. Responsible for developing the 'long-drop' method of hanging, Marwood practiced his new invention in Horncastle.  Over the space of eleven years he was responsible for the deaths of between 350 and 400, his first one being at Lincoln's old Victorian prison within the Castle grounds, (also definitely worth the day trip across to Lincoln!) and the last in Dublin.   Gruesome perhaps but definitely fascinating.
A short stroll through the narrow streets leads to St Mary's Church on Church Lane. The church dates back to the 13th Century and is constructed mainly of attractive local green Spilsby Sandstone. However the church has more to offer than just its architecture, it houses many relics of the 1643 Battle of Winceby and, therefore, has a little something for the historian in all of us.
Horncastle also hosts a twice weekly market, on Thursdays and Saturdays, with a range of stalls, offering many local items and traditional market fair, certainly worth visiting and picking up a bargain.
After all that walking, you'll no doubt be ready for some refreshment. Try a cup of coffee or tea and a light bite at The Old Stables in the Market Place. A good selection of hot and cold drinks are on offer along with an excellent choice of food, including breakfasts, sandwiches and hot snacks.
If you prefer your refreshments a bit stronger, pop into The Kings Head pub on the Bull Ring. One of the few 'mud and stud' buildings remaining in Horncastle.  This gorgeous little thatched cottage style pub reminds you of a proper old-fashioned inn and sells all the usual suspects necessary for an enjoyable visit to a traditional English pub.
If you want to extend your stay a little and spend a little time in this part of the County then why not stay in luxury with us at Meridian Retreats.  With a choice of 5 cottages accommodating parties up to 16 you are sure to find exactly what you need from a break in the Wolds.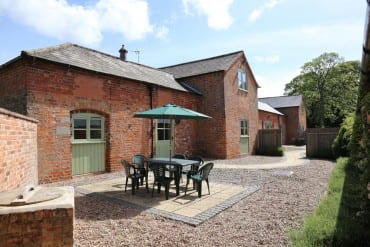 Whether you choose to spend your time exploring the towns many antique shops or visiting the local historical sites or those a little closer to our holiday cottages, there is so much to see and discover in and around Horncastle you certainly won't get bored!
Need more information on the historical figures mentioned in this article?
William Marwoods' Wikipedia entry
Sir Joseph Banks on Wikipedia
Interested in Lincolnshire Aviation History?